What's new in CodonCode Aligner 6.0
CodonCode Aligner version 6.0 introduces functionality for primer design and bacterial genome assembly.
Please note that CodonCode Aligner 6 requires a new license key. Version 6 is a free upgrade for all users with a current update and support agreement as of October 09, 2015. Other customers can purchase an upgrade to version 6.
Version 6.0.2 fixes bugs introduced in version 6.0.1.
Primer Design

Primer design in CodonCode Aligner 6 utilizes Primer3 to pick sequencing or PCR primers. Primer can be imported in the current project and are highlighted in the template sequence.

Create primer pairs for PCR at the optimal location within a setable range surrounding the target, cloning primers at a fixed location, or sequencing primers in an adjustable interval.

Primer picking parameters are highly adjustable and primer features can also be accessed after import.

For ordering, primers can be exported in csv file format which is commonly used.
Bacterial Genome Assembly
Aligner 6 add the option to create fast and memory efficient bacterial genome assemblies.
Aligner's scaffolding algorithm generates accurate scaffolds with high coverage.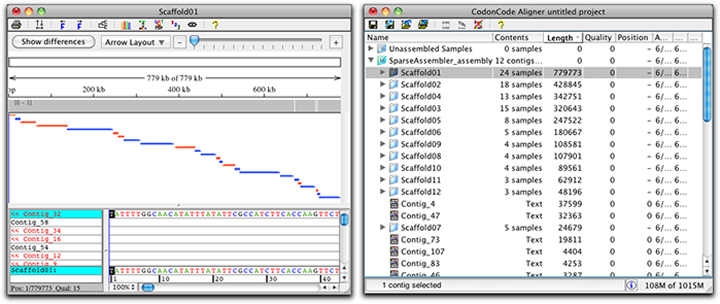 CodonCode Aligner 6.0 is compatible with Windows XP - Windows 10 and OS X 10.6.8 - 10.11 (El Capitan).